The Seven Days of Hayes
December 24 – December 30
A week-long celebration commemorating Rutherford B. Hayes' arrival in Cincinnati on December 24, 1849 and ending with his wedding to Lucy Webb on December 30, 1852.
On the Second Day of Hayes . . .


Christmas
During the ARCHITREKS "Building Holidays" tour on December 6, I related a great story about the Hayes' Christmas of 1858 from his
diary
at the
Rutherford B. Hayes Presidential Center
. It fit nicely with our discussion of the Christmas tree and I didn't think I could let the opportunity go by without mentioning Rutherford B. Hayes! I shared the following:
December 25, 1858 - Cincinnati
"Our children are overflowing with enjoyment of their Christmas presents. It is a great happiness to observe them. Last evening we had a jolly time. Our German girls, without our suspecting it, worked night before last until three o'clock in the morning in the cellar, and succeeded in surprising us all when we went to supper last evening, by giving us a beautiful Christmas tree. Birch and Webb were hardly able to contain themselves. They speedily got in all the neighbors' little folks and had a capital little impromptu frolic. This morning they are again in a happy excitement over the leavings of Kriss Kringle."
The "German girls" were obviously their servants at the time. The entry to me says so much about the early celebration of Christmas in the United States including the influence of German immigrants on the holiday and the focus of Christmas on the children which continues to this day.
Hayes in December of 1858 was the City Solicitor, filling in a vacancy just a few months prior. Birch and Webb were the oldest Hayes children. Ruddy, the youngest, was only six months old.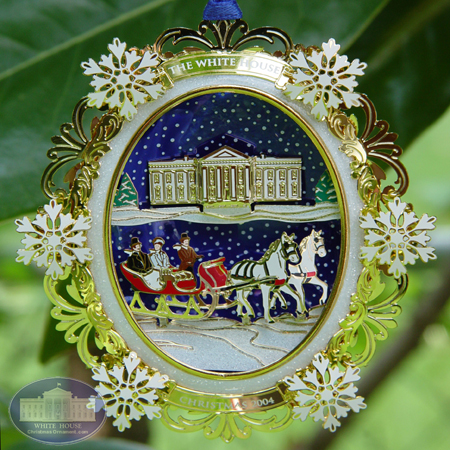 Image of the 2004 Rutherford B. Hayes White House Christmas Ornament from WhiteHouseChristmasOrnament.com
"Raise the Rutherford!" is a continuing, slightly humorous series to raise awareness of Rutherford B. Hayes and erect a statue of him in Cincinnati.