Part III: A Sense of Place

'Bau' is the German word for building. So in honor of Oktoberfest Zinzinnati (September 20 – 21), Queen City Survey is looking at some Germanic influences on Cincinnati, its history, and its built environment in a week-long series we are calling Okto'BAU'fest!

I have never been to Germany before, but some Cincinnati buildings just look like they belong there. Maybe it is the steeply pitched and often tiled roofs. Maybe it is the towers with multiple roof pitches. Maybe it is the use of
Fachwerk
. Whatever it is, it makes me want to get out my lederhosen.
Cordelia A. Plimpton House (1885)
2200 Upland Place
Architect: Lucian Plympton

A true half-timbered home Lucian Plympton designed for his mother. It overlooks the Ohio River to the rear of the building.
Time Hill (1917)
401 East McMillan
Architect: Burroughs & Deeken

Built for a the family owned Gruen Watch Company some components came from Switzerland and were assembled here.
Proctor and Collier – Beau Brummell Building (1921)
440 East McMillan
Architect: Elzner & Anderson

Originally built for Proctor & Collier, an advertising firm, it was bought in 1936 by the Beau Brummel Tie Company.
St. Francis Sereph Church
(1859)
1615 Vine Street
Architect: James McLaughlin
The original church was designed by James McLaughlin and has been altered both inside and out, including installing new brick on the exterior to replace that which was deteriorating. But here the dual towers with spires each rotated ninety degrees to me really evoke Romanesque churches of Germany.
Honorable Mention:
Grammer's
1442 Walnut Street
While I do not find the exteriors of Grammer's particularly Germanic, the interiors scream it like a German beer drinking song. In the main bar, the beveled glass wall and entrance way was created in Germany and installed in 1911. And the murals depicting the Rhine Valley were hand-painted in 1941. Queen City Survey wishes you a speedy recovery from the fire!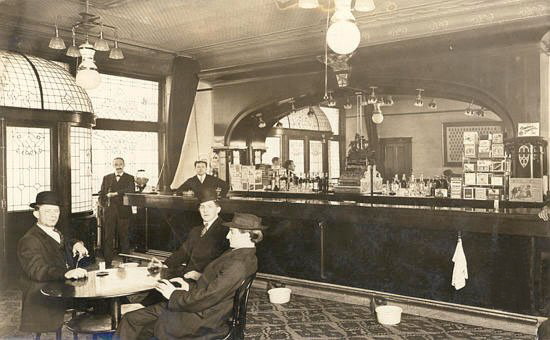 Other Honorable Mentions include
Schwartz Corner
at the NW corner of Vine & McMicken and
Rookwood Pottery
at 1077 Celestial Street.
Final thoughts . . .
I think it is interesting than in many cases, these building were not designed by people of German ancestry. And two, if anyone would like to send me to Germany, email me and I can tell you where to send the money.
Painter, Sue Ann. Architecture of Cincinnati. Ohio University Press, Athens, OH. 2006.
Next – Part IV: The Queen's Dictionary of Architectural Terms – Rundbogenstil