I have long thought that Cincinnati should have a winter festival of sorts - a weekend-long event to lure visitors to town in the months between those two powerhouses of
Oktoberfest
and
Taste of Cincinnati
. It doesn't even need to be of that scale (and probably couldn't be) but I think this town loves a good street festival and with a little thought and marketing, our winter festival weekend could be a regional draw.
I have a couple of thoughts or options to consider. Most of my ideas are tied to our German heritage and/or expand on pre-existing festivities . . .
Christkindlmarkt
This is a traditional German pre-Christmas festival where people gather to enjoy the Christmas holiday. Typically held in the town square over the many weeks of advent, this market-fest combines food and drink in the open air, shopping and pageantry, as well as tradition. Cincinnati already is doing a lot during the holidays and I see a way to enhance the activities of the tree lighting and ice skating for example by expanding our holiday festivities with the addition of a holiday market and branding it all as Cincinnati's Christkindlmarkt. One weekend in early to mid December we should close 5th Street between Race & Walnut and hold a weekend long festival with food, drink, and holiday goods. Heated tents could be erected for selling beer, hot chocolate, wassil and gluehwein. It will be like Oktoberfest but in December.
Photo from Chicago, Illinois's Christkindlmarkt

Karneval

Karneval or Fasching is Germany's answer to Carnival and Mardi Gras. Held the weekend before Lent and ending on Ash Wednesday, traditionally Fasching is a "time for revelry, humor, and satire". Parades are had and clubs organize costumed balls. In some cities, crowds playfully overtake city hall and steal the key to the city. Cincinnati Karneval could be similar with a parade ending at Fountain Square and a weekend long festival held with plenty of beer, bands, and food. Throw in some fireworks too!
Photo from Düsseldorf, Germany's Carnival
Schnee Festival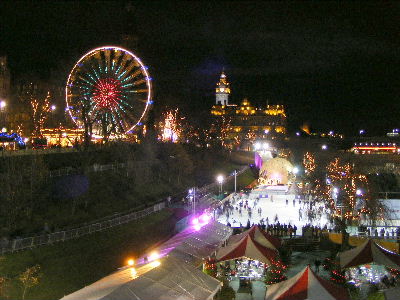 The Cincinnati version of an ice festival, "schnee" is the German word for snow. I am picturing free ice skating on the square, heated tents for food, drink, and live music. Then add snow related activities (and tons of fake snow) and wildly imaginative snow sculptures along 5th Street from Race Street to Main Street. What about a man-made hill for some urban sledding? The festival could coincide with Cinciditarod, Contusion Bowl, and the closing of the ice rink and serve as the symbolic end of winter in the Queen City.
Photo from Edinburgh, Scotland's Winter Festival